The purpose of Open Access Vis is to highlight open access papers, materials, and data and to see how many papers are available on reliable open access repositories outside of a paywall. See the about page for more details about reliable open access. Also, I just published a paper summarizing this initiative, describing the status of visualization research as of last year, and proposing possible paths for improving the field's open practices: Open Practices in Visualization Research
Why?
Most visualization research papers are funded by the public, reviewed and edited by volunteers, and formatted by the authors. So for IEEE to charge $33 for each person who wants to read the paper is… well… (I'll let you fill in the blank). This paywall is contrary to the supposedly public good of research and the claim that visualization research helps practitioners (who are not on a university campus).
But there's an up side. IEEE specifically allows authors to post their version of a paper (not the IEEE version with a header and page numbers) to:
The author's website
The institution's website (e.g., lab site or university site)
A pre-print repository (which gives it a static URL and avoids "link rot")
Badges
Open Access Paper
Open Materials – Materials needed to replicate and reproduce the methods
Open Experiment Data – Raw measurements needed to reproduce results
Preregistered (New this year!) – A timestamped immutable plan
More detail on the badges is in the about page.
New this year
1. The preregistered badge is awarded to papers that deposit an experiment plan (and preferably analysis plan) onto a timestamped and immutable repository prior to collecting and analyzing data. The goal is to signify papers that make any flexibility in the experiment variables as transparent as possible. Adding this badge brings OAVIS more fully in line with the official Center for Open Science badges. Only one paper earned the badge – Hypothetical Outcome Plots Help Untrained Observers Judge Trends in Ambiguous Data by Kale, Nguyen, Kay, and Hullman.
2. The "explanation" link was moved into the paper description under the abstract. It's not really a badge that signifies something about the transparency of the research. Like the video, it is bonus content to help explain. So it is between the abstract and video. (And it was really hard to settle on any objective definition of a "good" explanation.)
3. Papers with a PDF on a personal or institutional site but not a reliable open access repository won't not have all features enabled. Putting a paper on a reliable preprint server like osf.io/preprints or axiv.org takes minutes – far less time than it takes to make a video or explanatory medium post. So those bonus links and features are disabled until the paper is posted to a reliable location.
4. Note for next year: This is the last year that I will do any searching beyond URLs that are already in the paper. From now on, if there are any additional materials, data, or other information, put a URL in the paper. Heck, put it in the damn abstract! (Example)
Stats for 2018 (Updated Nov 12th)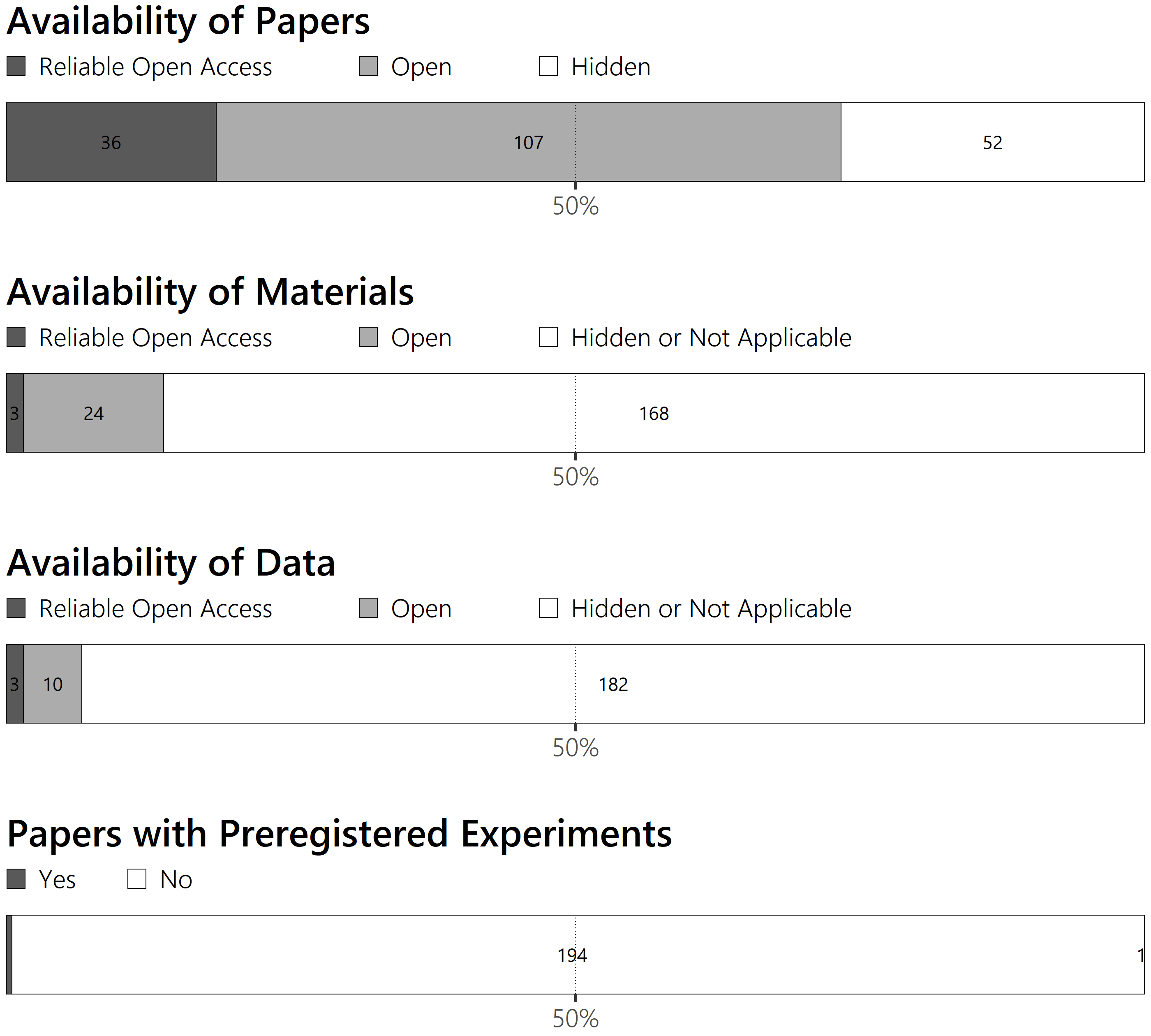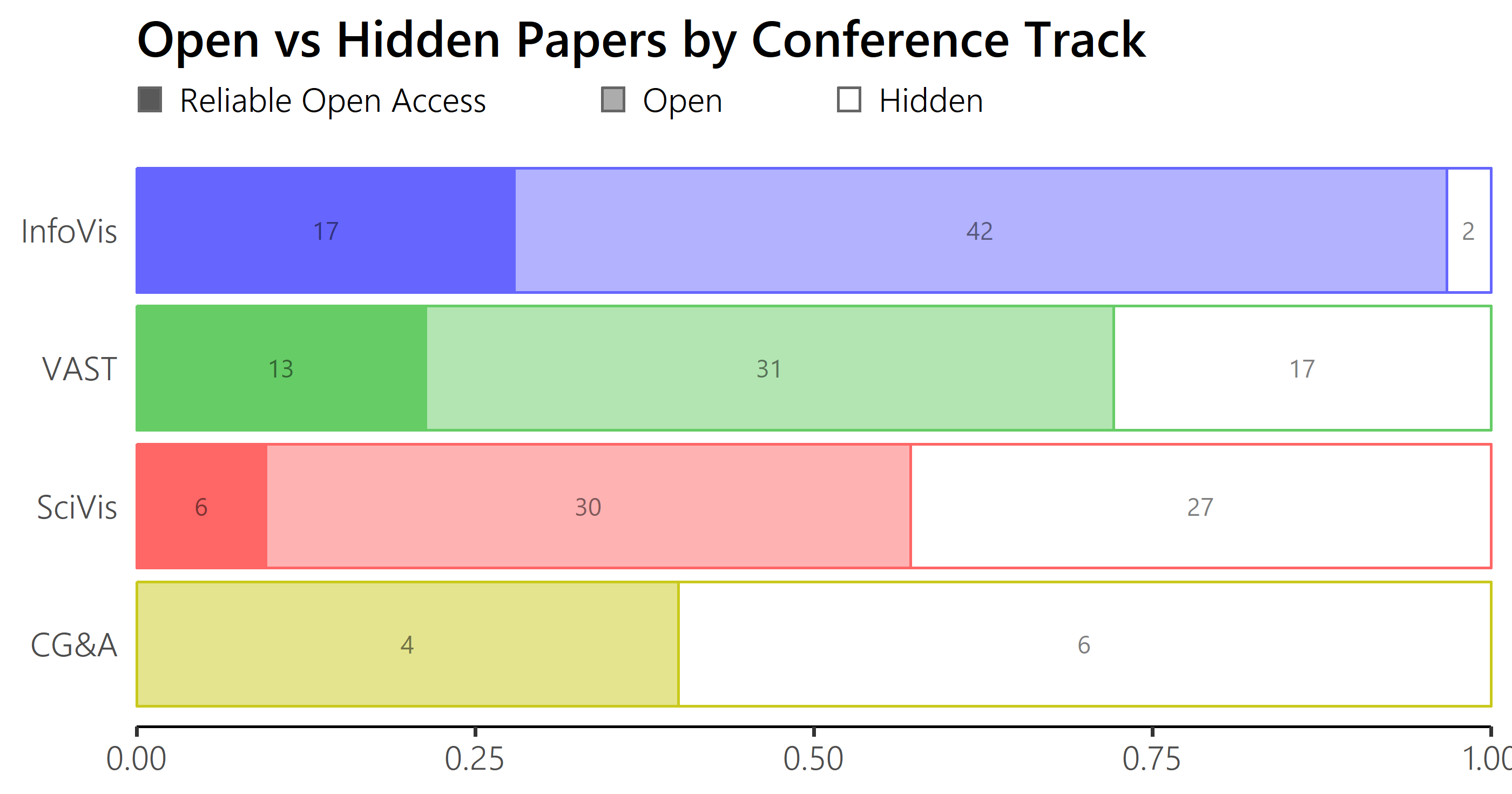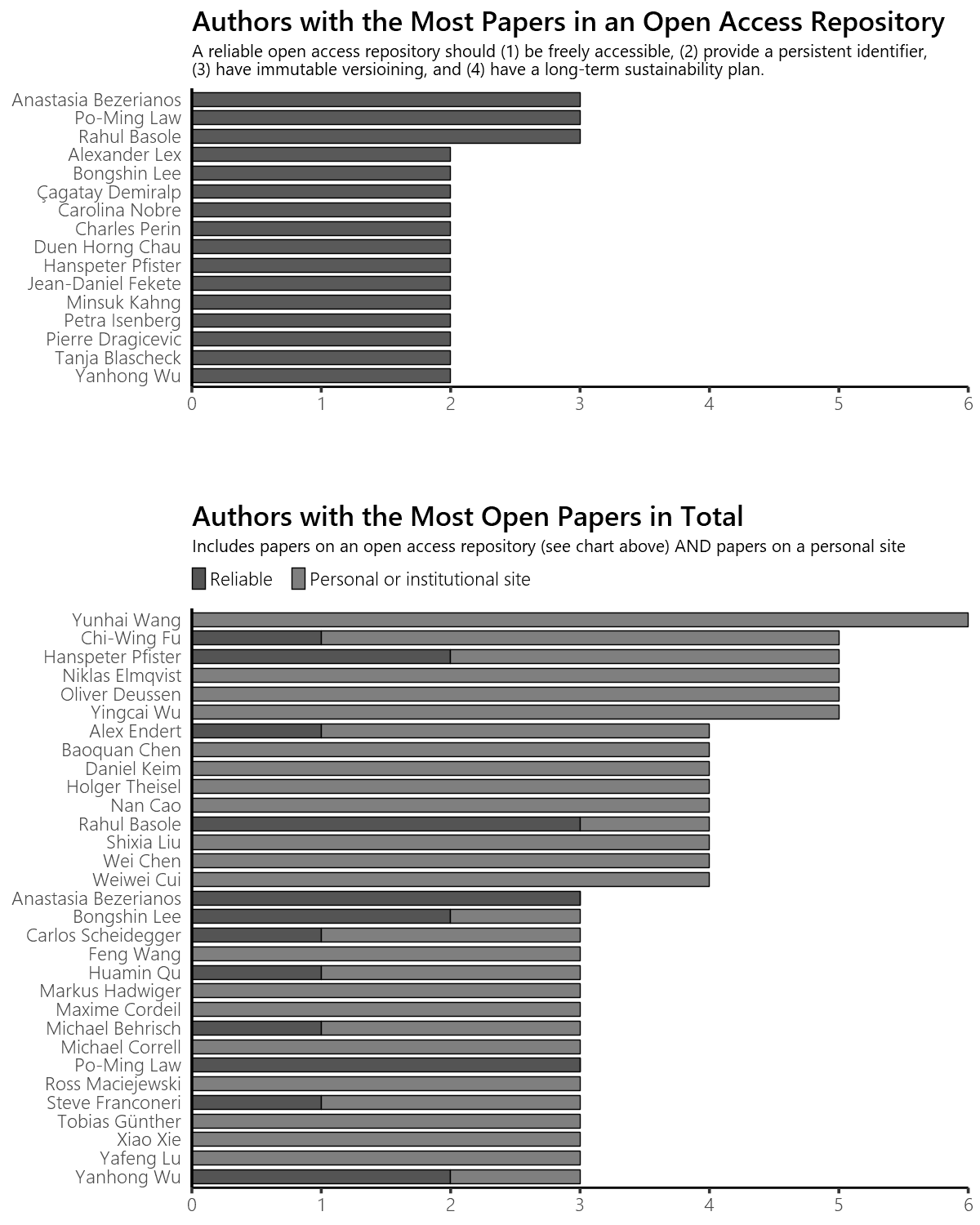 How do I share my work?
I will update these graphs occasionally over the next couple weeks as I find shared papers and materials. All you have to do is:
Upload your work to any open access repository (such as the Open Science Foundation). It takes under 5 minutes!
Make a GitHub issue with the new information or to point out information we missed.
Thank you
Sincere thanks to Noeska Smit, Isaac Cho, and André Calero Valdez, who help with data collection and making thumbnails!
Edit: For now, I've removed the "most hidden" chart, at least until the data is more complete and accurate.